This week's articles:
- Victoria Youth Championship
- World Championship Candidates Tournament
---
VICTORIA YOUTH CHAMPIONSHIP
Thirty-nine players took part in the Victoria City Youth Chess Championship on Saturday March 26. The five round event was held at the luxurious Grand Pacific Hotel. The winners and runners-up are listed below. Special mention goes to Ryan Leong and Pepi Eirew for achieving perfect 5-0 scores.
under 8
1.Sophia Velea
2.Ethan Song
3.Owen Johnston-Voon
under 10
1.Joshua Imoo
2.Stephanie Velea
3.William Li
under 12
1.Anna Van
2.Patrick Huang
3.Rowan James
under 14
1.Ryan Leong
2.Matthew Geng
3.Callum Lehingrat
under 18
1.Pepi Eirew
2.Andrew Datcu-Romano
3.Amar Dattani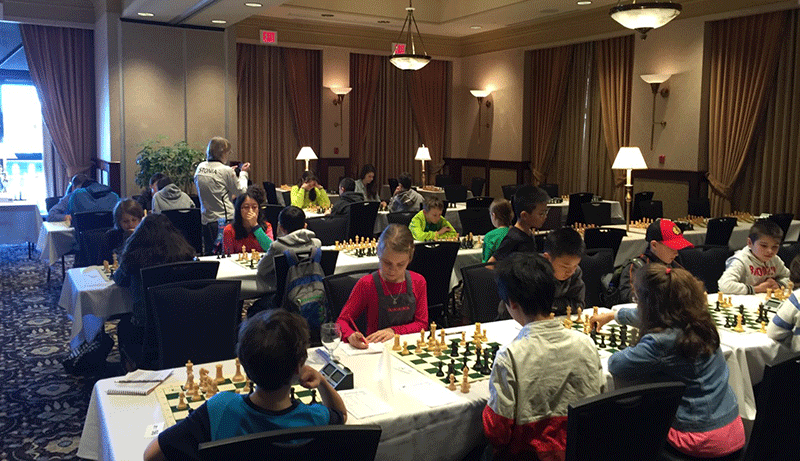 A grand time at the Grand Pacific.
 

You need a good tablecloth to play quality chess, right?
 

Sicilian Defence and English Opening

How about some Victoria trivia?
The city Victoria is on Vancouver Island. The city Vancouver is not. 
Victoria Island is in the Canadian Arctic. It is the 8th largest island in the world. Part of the island is in Nunavut, part in the Northwest Territories. Population: 1875.
Most people know that the city and island are named after Queen Victoria (1819-1901). But did you know that her father was Prince Edward (1767-1820)? He also has an island named for him. The province P.E.I.
Vancouver Island is the 43rd largest in the world, and P.E.I. is 104th.
For information on the Victoria Youth Chess Society, visit their website at http://victoriajuniorchess.pbworks.com
---
WORLD CHAMPIONSHIP CANDIDATES TOURNAMENT
The next challenger for the title of World Chess Champion is Sergey Karjakin. The 26 year old Russian won the Candidates Tournament held in Moscow March 11-28. The event was a double round robin between eight of the best players in the world. The prize fund was $600,000 (420,000 euros), with $140,000 for first place.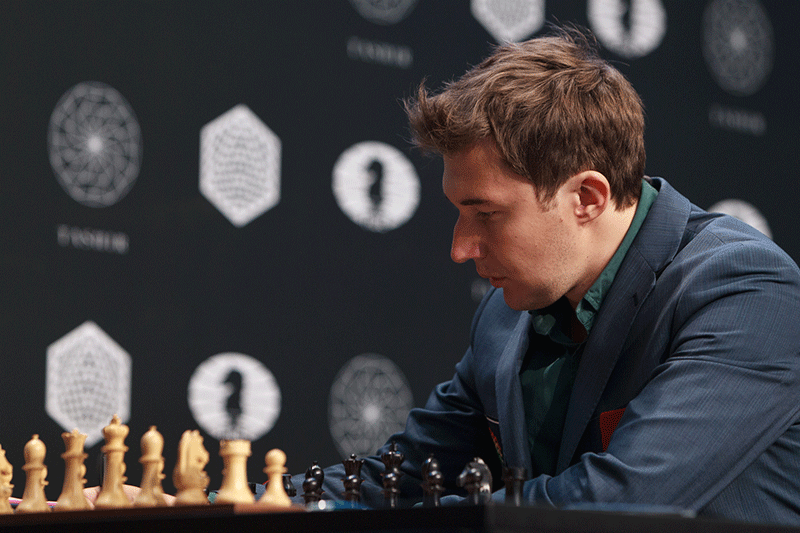 The final scores show how close the competition was.
 
|   |   |   |   |
| --- | --- | --- | --- |
| 1 | Sergey Karjakin | Russia | 8½ (of 14) |
| 2 | Fabiano Caruana | USA | 7½ |
| 3 | Viswanathan Anand | India | 7½ |
| 4 | Anish Giri | Netherlands | 7 |
| 5 | Peter Svidler | Russia | 7 |
| 6 | Levon Aronian | Armenia | 7 |
| 7 | Hikaru Nakamura | USA | 7 |
| 8 | Veselin Topalov | Bulgaria | 4½ |
The only notable top grandmaster that didn't qualify for the tournament was former champion Vladimir Kramnik (Russia).

Sergey Karjakin

Sergey Karjakin is the youngest person to ever become a grandmaster. He earned the title in 2002 when he was 12 years, 7 months old. That is nine months sooner than anyone else. Previous record holders include Boris Spassky, Bobby Fischer, and Judit Polgar. Current champ Magnus Carlsen (Norway), now 25 years old, achieved the title at 13 years, 4 months.
Fifteen years ago Sergey was the World Under 12 Champion. This November he will play a twelve game match versus Magnus Carlsen for the ultimate title of undisputed World Chess Champion. The match will be held in New York City with a prize fund of over one million dollars. 
As an example of what it takes to play for the world championship, here's a position from the last round in Moscow. Karjakin and Caruana were tied for the lead. Win and you're in.

Sergey Karjakin - Fabiano Caruana
Moscow 2016
​White to move
White sacrificed a pawn earlier to open lines towards the black king, but there is still a protective wall of black pawns in front of him. Black was in time trouble and just played the tricky move 36...Re5-e4?
 
 
 
 
 
 
 
 
 

37. Rxd5

 
 
 
 
 
 
 
 

S

habam! Karjakin sacrifices a rook to blast away the black defences. The game continued ...




37. …




exd5

 
 
 
 
 
 
 



38. Qxd5  




Qc7

 
 
 
 
 
 
 



Better was 38...Rd4 39.Qxd4 Qxd4 40.Rxd4 and Black is only down a pawn.




39. Qf5

 
 
 
 
 
 
 
 



Threatening Qh7+.

 
 
 
 
 
 
 



39. …




Rf7

 
 
 
 
 
 
 



40. Bxf7   




Qe5

 
 
 
 
 
 
 



If Black takes the bishop by 40...Kxf7, White skewers the queen with 41.Qh7+.




41. Rd7+ 




Kf8

 
 
 
 
 
 
 



42. Rd8+ 




1-0

 
 
 
 
 
 
 

Caruana resigned since he's mated after 42.Kxf7 43.Qh7+ Ke6 44.Qd7#.
For more information and photos from the Candidates Tournament, see http://moscow2016.fide.com