This week's articles:
- Central Quebec Scholastic Championship
- Alberta Chess Challenge
---
Central Quebec Scholastic Championship
Sixty-seven students of all ages participated in the Central Quebec Scholastic Chess Championship in Drummondville on April 3. Besides determining the regional champions, the competition was also a qualifier for the Quebec Chess Challenge in Montreal this Sunday (April 17).
The annual tournament, now in its tenth year, was directed by Dominick Blanchette. The awards included medals for the top three in each grade, plus trophies for the champions. The event was masterfully organized by Martin Laroche, with a spacious playing area, separate rooms for practice games, and snacks for the players.
The first three in each section are listed below. The letter Q after a name indicates that the player qualified for the provincial championship. Good luck everyone!
Grade 1 
1. Julien Arsenault - Q
2. Jacob Donais
3. Vincent Masse

Julien Arseneault with his deluxe trophy. To his right, Vincent Masse
and Jacob Donais (nice hat!).
Grade 2
1. Nathan Bilodeau - Q
2. Dominic Lambert - Q
3. Maxime Larocque
    Mahelï Richard - Q

Grade 2 champion, Nathan Bilodeau.
Grade 3
1. Julien Bassaletti Beaule - Q
1. Raphaël Yergeau - Q
1. Marc Olivier Bélisle Robert - Q
2. Émy Labonté - Q
2. Jérôme Murray - Q
3. Marc-André Laroche
3. Vincent Faucher

Marc Olivier Bélisle Robert, grade 3 champion.
Marc Olivier won a playoff against Raphaël Yergeau for the title.
The trophy is awarded to the resident of Central Quebec with the best result. 

Grade 3 medalists.
From left to right, Marc André Laroche (bronze), Julien Bassalleti (gold),
Marc Olivier Bélisle Robert (gold), Raphaël Yergeau (gold), Émy Labonté (silver),
Jerome Murray (silver), Vincent Faucher (bronze).
Grade 4
1. Robert Magner - Q
2. Bastien Bassaletti - Q
3. Olivier Samson - Q
    Willyanna Morin - Q

Robert Magner, grade 4 champion.
Grade 4 medalists: gold, silver, bronze. 
From left to right, Olivier Samson, Bastien Bassaletti, and Robert Magner.
Grade 5
1. Hugo Laroche - Q
2. Alexis Picotin - Q
3. Gabriel Croteau
3. Charles Caron   
3. Shawn Bergeron
3. Louis Caron
3. Mathieu Barette
    Maria Luisa Quispe - Q

Grade 5 medalists.
From left to right, Mathieu Barette (bronze), Shawn Bergeron (bronze),
Gabriel Croteau (bronze), Hugo Laroche (gold), Alexis Picotin (silver),
and the twins Louis and Charles Caron (bronze).
Grade 6:
1. Shawn Rodrigue-Lemieux
2. Mathias Grandmont
3. Anthony Alvarez - Q

Grade 6 medalists
From left to right, Shawn Rodrigue Lemieux (gold), Mathias Grandmont (silver),
Anthony Alvarez (bronze).
The regional trophy was awarded to Mathias because Shawn is from Montreal. 
The rotating trophy will be displayed by Mathias's school until the next championship in April 2017. 
Secondary and college
1. William Pratte - Q
1. Michael Simoneau - Q
2. William Bouchard - Q
2. Marc-Antoine Lévesque - Q
3. Marilou Laroche - Q
    Martin Turcotte - Q

Junior High School medalists: William Bouchard (gold) and Marilou Laroche (silver).

High School: Gold medalist Michael Simoneau.
Tournament director Dominick Blanchette (left) and organizer Martin Laroche.
Tournament scenes:
The tournament is about to begin.

Good luck!
For complete results, see Central Quebec Scholastic Championship
---
Alberta Chess Challenge
The Alberta Chess Challenge was held at Lindsay Thurber High School in Red Deer on April 9th. Fifty-three players took part in the provincial championship which qualifies the winner for a spot on the Alberta team travelling to Regina over Victoria Day weekend. This year's champs and runners-up are listed below.  
Alberta has finished fourth at the nationals for the past four years. Will they make it to the top three in 2016?
Grade 1
1. Colton Rostoker
2. Yijia Guo
Grade 2
1. Anand Rishi Chandra
2. Ron Offengenden
3. Ricky Chen
Grade 3
1. Vishruth Sharma
2. Victor Liu
2. Kevin Qin
Grade 4
1. Paul Wang
2. Alexander Tan
2. Mark Ivanescu
Grade 5
1. Andi Superceanu
2. Julian Lau
3. Daniel Eaton
Grade 6
1. Ian Zhao
2. Arul Papneja
2. Sean Mah
Grade 7
1. Andrew Xu
2. Jerry Li
3. Tanushka Jindal
3. Joshua Xie
3. Siddhartha Chitrakar
Grade 8
1. Jeff Wang
2. David Yao
3. Patrick Tolentino
Grade 9
1. Chenxi Wu
2. Lucy Chao
3. Andre Tolentino
Grade 10
1. Raphael Libre
2. Ali Abdulla
3. Benjamin Wolfman
Grade 11
1. Diwen Shi
Grade 12
1. Dave McCullough
2. Elvin Limpin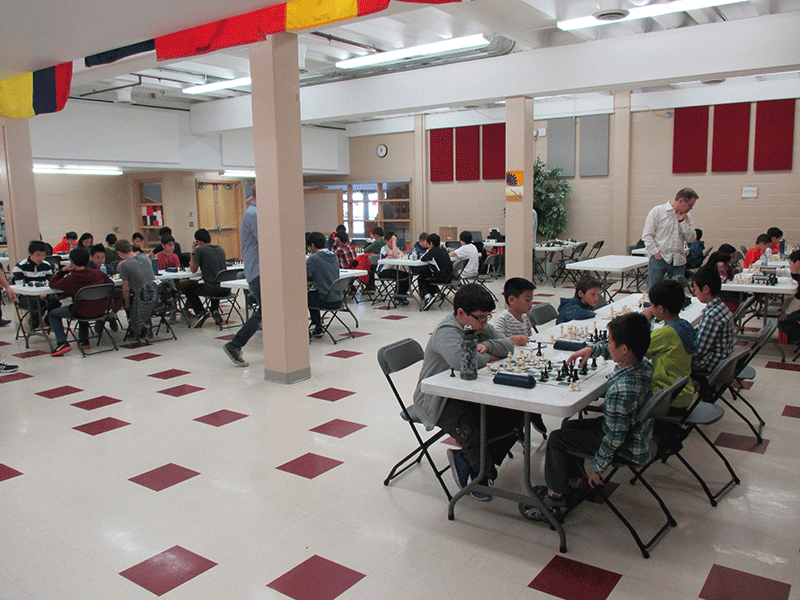 Bright kids in a well lit room.

Diwen Shi vs Raphael Libre.
Elvin Limpin vs Dave McCullough (background).

The battle for grade 2 supremacy.
For complete results, visit the Alberta Chess Association webpage at http://www.albertachess.org